Ductless Mini-Split Services in Toms River, NJ
BC Express Heating & Air Conditioning Serves the Toms River, NJ Area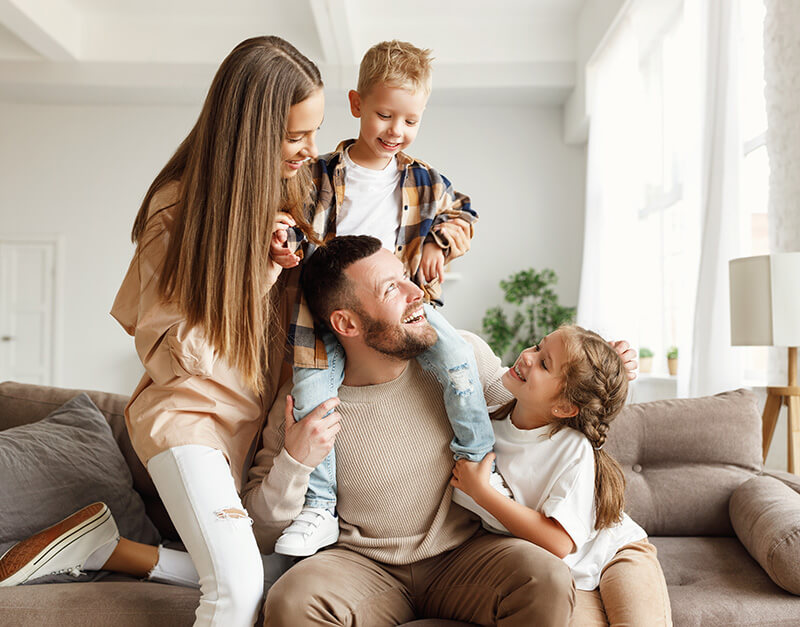 For a variety of reasons, ductless mini-split systems are becoming more and more popular with homeowners in Toms River and Central New Jersey. It's important to choose a contractor who understands how ductless heating and air conditioning systems operate, as well as how to install, repair and maintain them properly. When you choose BC Express to help meet your ductless mini-split service needs, you'll find that our NATE-certified technicians can offer you the expertise you need.
Let our experts help you customize a ductless solution that's right for you.
BC Express review scores as of 6/14/23
Ductless Mini-Split System FAQs
Ductless mini-split systems are popular for heating and cooling in homes and businesses. Here are some commonly asked questions and their answers about these systems:
What is ductless air conditioning and heating?

Ductless air conditioning and heating systems consist of an outdoor condenser unit and one or more indoor air-handling units. Unlike traditional HVAC systems, they don't require ductwork to distribute air, and are therefore well-suited for areas where installing ductwork is impractical or impossible.

What is a mini-split system?

The terms "ductless" and "mini-split" are often used interchangeably, but they essentially refer to the same type of heating and cooling system. Both ductless and mini-split systems consist of an outdoor condenser unit and one or more indoor air-handling units. The choice between using "ductless" or "mini-split" often depends on regional terminology and personal preference.

Can ductless systems be used for both heating and cooling?

Yes, most ductless systems offer both heating and cooling capabilities, making them suitable for year-round use.

How does a ductless system work?

The outdoor unit compresses refrigerant, which is then sent through copper lines to the indoor units. The indoor units blow air over the coils containing the heated or cooled refrigerant, and this conditioned air is released into the room.

What are the advantages of using a ductless system?

Energy efficiency, zoning capabilities, simple installation, improved indoor air quality, and flexibility in heating and cooling different zones are some of the main advantages.

Are ductless systems energy-efficient?

Yes, ductless systems are often more energy-efficient than traditional systems because they allow for individualized temperature control in different zones, reducing energy wastage.

How is a ductless system installed?

Installation involves mounting the indoor units on walls or ceilings and connecting them to the outdoor condenser unit through a small hole. It's generally less invasive than installing ductwork.

Are ductless systems reliable?

Just like any other HVAC equipment, scheduling professional inspections are essential for maintaining ductless system efficiency and longevity. Some maintenance checks include cleaning of filters and coils, and checking refrigerant levels. With proper maintenance, ductless mini-split systems can last 15-20 years or more, which is comparable to traditional HVAC systems.
Learn more about the ductless heating & air conditioning services we offer in Toms River and Central NJ
When your home or business has limited space, a ductless HVAC system may be the solution you need. Ductless systems offer a cost-effective and space-saving way to heat or cool spaces. BC Express can help you choose the right system and guide you through the installation. Our knowledgeable NATE certified technicians can help with all your ductless system needs.
Ductless Mini-Split Installation:

Choose BC Express to install a quality ductless heating and cooling system from the leading manufacturer in your home. Additionally, we work with you to help you get the best possible savings on your system, via rebates and incentives available for these highly efficient systems.

Ductless Mini-Split Repair:

 When you need repair services for your home's ductless system, you can rely on BC Express to provide you with prompt services to help get your system back up and running effectively and efficiently in no time.

Ductless Mini-Split Maintenance:

 Maintaining your ductless system is an important step in helping your system run efficiently, keep your home comfortable, and last for years to come. BC Express has expert technicians who are ready to meet your ductless system maintenance needs.
Trust BC Express when you need ductless system services for your home in Toms River or Central New Jersey.
To learn more about our professional ductless mini-split services in the Toms River area, simply give us a call at 732-240-2828. We will provide you with the best ductless products, along with our expert services that help ensure your home is comfortable, no matter what the weather outside!
Some of the areas where we provide ductless mini-split services: