BC Express review scores as of 8/22/22
Tankless Water Heaters in Toms River, NJ
BC Express review scores as of 10/20/23
For the best tankless water heater products in Toms River and Central NJ, you can count on BC Express. We offer quality tankless options from both NTI and A.O. Smith, manufacturers known for quality manufacturing, durability and efficiency. With a tankless water heater, you'll experience unending on demand hot water for your home.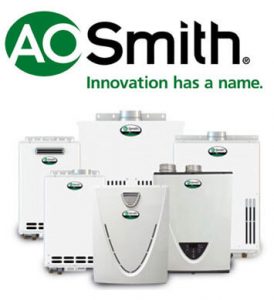 Water is heated on demand, and can supply hot water for multiple showers, baths, washing machines and kitchens all at the same time. Imagine the luxury of always having enough hot water for family and guests, while not paying to heat water constantly, like you do with a traditional water heater system.
Learn about the hot water heater options BC Express offers.
NTI Tankless Hot Water Heaters: NTI manufactures only top-quality hydronic heating equipment. Acknowledged as a leader in research and product development, NTI is a pioneer in developing the most advanced and efficient home heating equipment. Their eco-friendly on-demand water heaters will provide extra savings for you and your family. Combi versions are also available, and can provide both space heating and hot water to your home.
A.O. Smith Tankless Hot Water Heaters: A. O. Smith tankless units provide you with endless hot water in one of the most energy-efficient ways possible. Indoor and outdoor designs take up less space and allow for additional storage and flexibility, with maximum flow rates up to 14.5 gallons per minute.
Endless Hot Water: Heating water only as it's being used means you will never run out of hot water again. After the few seconds it takes for the water to reach the designated set temperature, our tankless water heaters will continually provide a steady flow of hot water for as long as your application needs it.
Energy Conservation: The A. O. Smith tankless water heaters provides you with continuous hot water in one of the most energy-efficient ways possible. Conventional tank-type water heaters will heat and store a set volume of water, regardless of whether someone is using that hot water or not. Because our water heaters only activate when hot water is being used, no standby energy losses are incurred, providing efficient heating and conserving gas energy.
Compact Size: An A. O. Smith tankless water heater takes up much less space than a conventional tank-type water heater. With no tank to steal valuable storage space, A. O. Smith's wall-mount design allows for additional storage and flexibility.
Count on BC Express for your tankless hot water heater needs in Toms River, NJ.
BC Express is a highly experienced home comfort contractor, and we take pride in providing our customers with the best tankless hot water heater solutions for their specific needs. Quality equipment is the foundation of our business. Let us help you get the tankless hot water heater, as well as the installation, maintenance and repair services, you need for your home. Simply give us a call at 732-240-2828, and we will be happy to assist you.