BC Express review scores as of 8/22/22
Boilers in Toms River, NJ
BC Express review scores as of 6/14/23
If you have radiant heat in your home, you likely depend on a boiler system to keep your home warm. When you request boiler service from BC Express, we'll provide you with the quality boiler equipment you need to keep your home toasty all winter long in the Toms River, NJ area. We're pleased to offer our customers quality boiler products that are made to provide you with reliable, durable heating, year after year.
How Boilers Work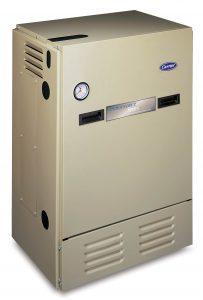 Boilers are designed to spread consistent warmth through your home's radiant system. Boilers provide reliable, quiet heating. We provide boilers from Carrier®, specifically designed to meet ENERGY STAR® specifications while offering ultimate energy efficiency – in some cases, up to 90 percent.
BC Express provides boiler products to fit any home and lifestyle.
At BC Express, our goal is to provide customers with the most energy efficient boiler products available, all with our customers specific needs and budget in mind. We offer a range of boiler equipment that not only will keep your home comfortable, but will help you save energy – now and for years to come.
For the best boiler products available in Toms River, NJ, choose BC Express.
BC Express is a highly experienced boiler contractor, and we take pride in providing our customers with only the finest Carrier heating solutions for their specific needs. Quality HVAC equipment is the foundation of our business. Let us help you get the boiler products, as well as the installation, maintenance and repair services, you need for your home. Simply give us a call at 732-240-2828, and we will be happy to assist you.