BC Express review scores as of 8/22/22
Thermostats in Toms River, NJ
BC Express review scores as of 6/14/23
Gone are the days of old-school thermostats that did nothing more than set the temperature! When you choose BC Express as your HVAC services contractor in the Toms River, NJ area, we'll provide you with modern, technologically advanced thermostat products. These state-of-the-art units offer many options for making your home's indoor climate more comfortable, efficient, and easy to manage than ever before.
Types of Thermostat Products for Your Home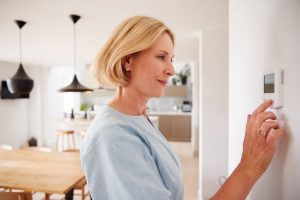 Today's thermostats are made to work more intuitively with your lifestyle, your home comfort equipment, and your unique needs. We offer a variety of thermostat products that will help you enjoy better home efficiency and control.
Our selection of thermostats from brands like Carrier® are perfect for your current or new heating and air conditioning systems.
Programmable Thermostats: One of the first major advancements in thermostats was the ability to program them. Giving your thermostat a schedule not only streamlines comfort, but helps you save money on your utility bills.
Auto-Learning & Adjusting Thermostats: Manufacturers like Carrier® have been at the forefront for creating thermostats that have the ability to auto-learn schedules and/or auto-adjust based on whether or not anyone is at home. These thermostats typically pay for themselves quickly, and are bringing an entirely new level to indoor comfort control.
Wi-Fi & Smart Thermostats: Many of today's thermostats also boast Wi-Fi and internet access, allowing complete control from a smart phone. Some thermostats feature comfort profiles that can be saved and activated.
At BC Express, we can help you choose the right thermostat product for your home in Toms River, NJ.
BC Express is a highly experienced home comfort contractor, and we take pride in providing our customers with only the finest Carrier thermostat solutions for their specific needs. Quality HVAC equipment is the foundation of our business. Let us help you get the thermostat products, as well as the installation, maintenance and repair services, you need for your home. Simply give us a call at 732-240-2828, and we will be happy to assist you.