BC Express review scores as of 8/22/22
Tankless Water Heater Maintenance Near Toms River, NJ
BC Express review scores as of 6/14/23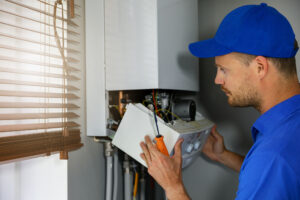 Did you know that tankless water heaters can last 10-20 years or more? To get such an impressive lifespan out of them, it's crucial that you keep yours properly maintained. How often you should opt for maintenance depends on several factors, including how heavily it's used. At the very least, you should have your tankless water heater inspected and tuned-up every few years. If it's time for you to get tankless water heater maintenance in Toms River or Central New Jersey, then you should know BC Express can help.
At BC Express, we're committed to making sure your home never runs out of hot water. Our skilled technicians are highly trained in tankless water heater maintenance to ensure your water heater operates flawlessly. When you opt for regular maintenance, any small problems or initial signs of wear can be addressed and fixed before turning into larger, more expensive problems. Not to mention, you may also save money on your energy bills with improved efficiency.
Why Choose BC Express for Your Home's Tankless Water Heater Maintenance Near Toms River, NJ?
Keeping your tankless water heater tuned-up is a proactive way to help it avoid breakdowns. When you call BC Express for water heater maintenance, our expert technicians will inspect your system thoroughly. Our comprehensive tune-up ensures your water heater is in optimal condition, offering you and your family an abundance of hot water on demand, all without breaking the bank on your energy bills.
Trust BC Express for quality tankless water heater maintenance in Toms River and Central New Jersey.
To learn more about our preventive tankless water heater maintenance and tune-up service in the Toms River area, simply give us a call at 732-240-2828. Our highly skilled technicians will help ensure your home never runs out of hot water again.