BC Express review scores as of 8/22/22
Why Get Heating Maintenance for Your Home?
BC Express review scores as of 10/20/23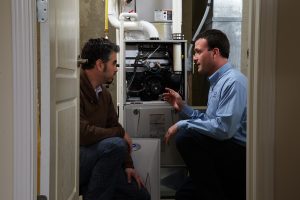 Once the winter weather settles in, you'll likely be relying on your home's heating system on a daily basis. You'll want to make sure it's operating as effectively and efficiently as possible. One of the best ways you can do that is to ensure that you call your HVAC contractor and schedule system maintenance on an annual basis.
Whether you have a furnace, boiler, heat pump, or ductless heating system, scheduling annual heating maintenance is important. There are many reasons why you'll want to call for maintenance if you have not yet done so. Like any other type of complex equipment, your home's heating system needs to be maintained in order to ensure it is operating at its best.
Getting heating maintenance can help your home in the following ways:
Improved Indoor Air Quality: When your heating system runs a lot, it tends to get dirty. Dust and other debris can build up in your system, and end up in the air in your home whenever your system runs. Annual maintenance will ensure that your filter and other heating components are clean – helping your home's air stay fresh and healthy as well.
Better Comfort: Regular maintenance helps your system run better. Your home will be cozier and more comfortable because your system will operate more effectively.
Improved Equipment Efficiency: A dirty system, or a system needing repair, will have to work harder to keep you comfortable. As a result, you'll likely notice an increase in your utility bills – and nobody wants that! Regular maintenance helps keep your system at its original efficiency, helping you save energy.
Warranty Preservation: You might want to check out your heating system warranty. That's because most manufacturers require regular maintenance to preserve the warranty. Not getting maintenance as required could void the warranty – and that means you could end up with costly out-of-pocket repair or replacement expenses down the road.
Longer Equipment Life: The heating system in your home is an investment. To best protect it, getting the annual maintenance it needs may not only help it operate more efficiently this winter, but for years to come. When you get annual maintenance, your equipment will be cleaner and more efficient, and your technician may find small problems before they become larger and costlier ones.
Getting the heating maintenance your system needs is as easy as calling BC Express.
At BC Express, our professional, highly-trained technicians can easily help you get the heating maintenance you need. That way, you'll ensure your system is effective, efficient, and enjoys a longer life. Simply give us a call at 732.240.2828. We'll be happy to schedule an appointment with you to discuss your heating maintenance needs.