BC Express review scores as of 8/22/22
What To Do In A Cooling Emergency
BC Express review scores as of 10/20/23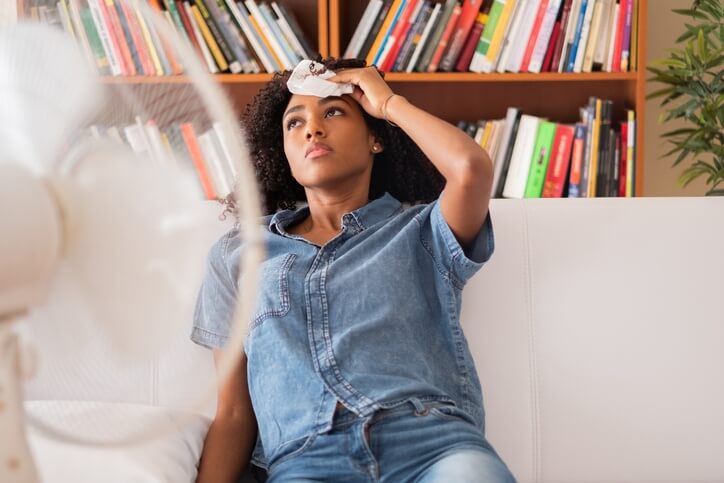 It's a scorching summer day. You've been outside, and you're feeling hot and uncomfortable. You can't wait to come inside and enjoy some cool relief from your home air conditioning system. But the minute you step inside, you can tell something's wrong. It's hot and muggy inside, too. Your air conditioning system isn't working. You just want to cool down, and you need to find a solution – quickly.
Fortunately, sometimes there's a simple solution. Before you call in the pros, check for these possible problems first:
Check your breaker. If it's been tripped, that can cause your air conditioner to stop working.
Check your filter. If it's dirty or clogged, it could be blocking your AC. Hopefully cleaning it or changing it will get your system back up and running without a problem again.
Check your evaporator coils and refrigerant line for ice. If there is ice on the line, allow it to melt and check again to see if your fan is working.
If none of these concerns seems to be the problem, or if you've tried to remedy the concerns yet your system is still not operable, chances are you'll need to call in a professional.
BC Express can help, but what can you do to stay cool while you're waiting?
At BC Express, we pride ourselves with prompt emergency service, but there are a few things you can do to keep comfortable while you're waiting for us to arrive.
Take a cold bath or shower. This can be especially helpful if you've been in the hot, sticky outdoors. This will help you cool down quickly and keep you feeling refreshed.
Drink lots of water. It helps you stay hydrated and helps your body keep you cooler. It's especially important to make sure you drink plenty when it's really hot outside.
Enjoy some frozen treats. Popsicles, frozen yogurt, even frozen grapes and berries are delicious ways to keep cool while you wait.
Use fans. While fans don't actually cool the air, they help keep the air in your home moving, which helps the sweat on your skin evaporate so you feel cooler. Make sure your ceiling fans are on, and use strategically placed oscillating fans to keep the air circulating from room to room.
Put your towels in the freezer. Well, not all of them, and probably not your big ones. But, dampen a couple of washcloths and place them in the freezer, and they'll make great cold compresses to place on your forehead and neck, which will help you cool down.
At BC Express, you – and your comfort – are important to us.
A word of caution: in extreme heat, it's important to note your health and the health of those around you. The elderly, infants, and those with health concerns can struggle when it's very hot out. In these cases, you may want to seek an air-conditioned space until help arrives.
Of course, at BC Express we make every effort to get you the AC repair assistance you need as quickly as possible. All you have to do is just give us a call at 732-240-2828 and we'll be happy to help you get the air conditioning repairs you need.