BC Express review scores as of 8/22/22
What Makes BC Express Different?
BC Express review scores as of 10/20/23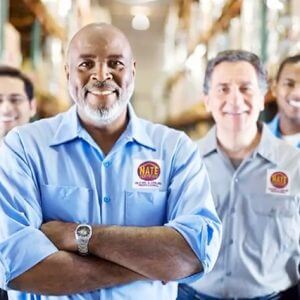 When you check out the Internet to learn about HVAC contractors in your area, the chances are pretty good you'll discover there are many to choose from. And, because of that, deciding whom the right contractor is for your home and your family isn't always easy. It might be hard to figure out who's reputable, experienced and provides the best products and services available. At BC Express, you should know we go above and beyond to provide our customers with an exceptional experience. We don't just sell and install good products; we strive for excellence in everything we do – from providing you with expert service to saving you money.
Top Quality Home Comfort Products
When you choose to work with BC Express, you'll see the difference in our company right away. First of all, you can rest assured we'll provide you with only the best equipment on the market today. We install quality Carrier® home comfort products, including air conditioners, furnaces and heat pumps. When you choose us for your ductless heating and cooling needs, you'll love the effective, efficient comfort provided by Mitsubishi Ductless. These systems help you keep all areas of your home comfortable, while saving significant energy.
NATE-Certified Technicians
What does it mean to be a NATE-certified technician? It means that they've passed rigorous, multiple-choice, knowledge-based tests that validate their knowledge. NATE certification represents a real-world working knowledge of HVAC systems, so you can trust a NATE technician to provide you with the best service available. At BC Express, we hire NATE-certified technicians because we're committed to providing our customers with expert installation, maintenance and repair on all of their home comfort equipment.
Accreditations
At BC Express, we're proud to be an accredited business with the Better Business Bureau, and even prouder to have an A+ rating as well. In order to achieve an A+ ranking, the BBB takes into account complaint history, the type of business, the years in business, transparency of business practice, honoring of commitments to the BBB, up to date, complete licensing, and appropriate, ethical advertising practices. In addition, BC Express is a Building Performance Institute GoldStar Contractor, meaning we have the training and certifications to provide you with a more comfortable, safe and energy efficient home.
Full-Service HVAC Contractor
 Finally, BC Express is a full-service HVAC contractor, offering customers a complete range of products and services. We specialize in heating, cooling and indoor air quality, and can provide you with anything you might need, from installation of a new system, to annual maintenance, to repair. Not to mention, we strive to save you money. We're dedicated to making sure you receive every possible discount and rebate available, in addition to saving energy and money.
If you need an HVAC contractor that you can trust, look no further than BC Express. We can't wait to show you the difference in choosing a company that keeps your home comfort needs as their number one priority! You can reach us at 732.240.2828 – we look forward to your call and can't wait to help you and your family enjoy the comfort you deserve.