BC Express review scores as of 8/22/22
Thinking About a New Heating System? Learn About How We Can Help!
BC Express review scores as of 10/20/23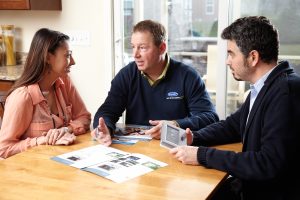 When it comes time to replace the heating system in your home, you may be wondering what the best choice for that replacement might be. In today's world, there are many choices for heating your home that didn't exist in the past. And, modern heating systems, including the traditional boiler or furnace systems, are built to provide effective, efficient heating that can help you save energy as well.
As a homeowner, it can get a little overwhelming when it comes to determining what's right for your home. When you work with BC Express, though, we'll help you find the heating system that's the perfect fit for your home and lifestyle needs. What's more, our team of NATE-certified technicians have the know-how to install, maintain, and repair virtually any type of home heating system, so you know when you choose us, you'll get the best service available.
What types of heating systems does BC Express offer?
At BC Express, we always have two goals in mind when replacing your home's heating system, or installing a system in a new build or remodel. First of all, we offer the best quality equipment from trusted manufacturers, like Carrier® and Mitsubishi®. Secondly, we strive to ensure the equipment we install in your home is as energy-efficient as possible. We always want to help you save energy, and save on your utility bills as well.
That's why we offer our customers a comprehensive list of heating system types – to ensure the best fit for your home's needs. Our heating system types include:
Heat Pumps: Heat pumps operate by pulling heat from the air or ground, and sending it into the home. These types of systems are beneficial because they can also serve as a cooling system in the summer. Heat pump systems most generally use the home's duct system.
Ductless Heating Systems: Ductless heating systems typically use a heat pump to heat (and conversely cool) the air. Unlike a central heat pump system, however, a ductless system utilizes individual units installed in a particular location or locations throughout the home.
Combination Heating Systems: If space is limited at your home or commercial property, you may wish to have a combination heating system installed. A combination system offers a combination of hot water heater and boiler system in one.
Boilers: Boiler systems work by sending heated water from a central boiler through a radiator system in the home. Boilers usually use gas, oil, or electricity to heat the water.
Furnaces: Like boilers, furnaces generally send heat through a central system, but instead of using heated water, they heat the air and send it through the home's ductwork system.
Can BC Express help me choose the best heating system for my home?
Of course! Helping people get the right home comfort equipment is what we do best! Often, when people need to replace heating equipment, it's been installed in their home for quite some time. We can help make sure your new system is the appropriate type and size for your needs. And, we can evaluate your home to make sure you and your family enjoy the best possible home comfort. We'll provide you with a solution that keeps you comfortable for years to come.
What's more, BC Express is a full-service HVAC company, so you can count on us to provide expert installation as well as service afterward. We'll offer you comprehensive annual maintenance, so your new equipment operates effectively and efficiently, year after year. And, in the event you should need any repair services, we can assist you as well. If it's time for new heating, it's as simple as giving BC Express a call at 732.240.2828. We'll be happy to schedule an appointment with you.