BC Express review scores as of 8/22/22
Spring into Better Home Comfort with Air Conditioning Maintenance
BC Express review scores as of 10/20/23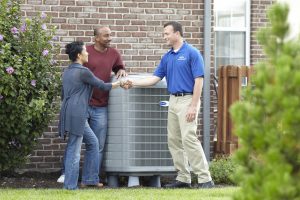 Now that the spring season has made its official arrival, warmer temperatures are just around the corner. Even though it might seem like it's a little early to start thinking about your home's air conditioning system, this really is a perfect time. That's because it's always a good idea to get your spring maintenance appointment scheduled before the hot weather starts – and people start calling for emergency repair services.
Some homeowners, though, might not know what the big deal is when it comes to getting annual maintenance. They might think it's an unnecessary additional expense, or that it really doesn't make much of a difference in AC performance. But, getting the yearly spring maintenance your system needs can definitely be beneficial on many levels. Not only can it help improve home comfort, but it can help your equipment be more effective, efficient, and last longer.
So, what are some of the reasons I should get AC maintenance?
Of course, you might not think about your air conditioning system very often – unless it needs a repair. Fortunately, the easiest way to either prevent or minimize the need for AC repair is by getting annual maintenance. Just like your vehicle needs things like tune-ups, oil changes, and new tires and wiper blades, in order to keep your air conditioner running smoothly, it needs an annual checkup, too. Learn more about the benefits of air conditioning maintenance:
Better Efficiency: Air conditioning systems, when left without the proper maintenance, can get very dirty. The gunk and buildup make it hard for your AC to do its job easily, and that results in more energy being used. Annual maintenance provides for a system cleaning and tune-up that will help it use less energy.
More Effective: You chose to install an air conditioning system in your home so that you and your family could enjoy cool comfort, no matter the outside temperature. So if you're noticing that your home just isn't as cool as you'd like, chances are your AC system needs a tune-up. Even a simple filter change can make a world of difference in how effective your system is!
Equipment Durability: When you invest in an air conditioning system, you probably want to make sure it lasts for as long as possible. One of the best ways you can do that is by getting it the annual maintenance it needs. That way, your system will be cleaned and checked yearly, and any small problems can be taken care of right away before your system breaks down.
Fresher Indoor Air: As we mentioned above, through use your AC system is likely to collect dirt and debris and circulate it back through the air in your home. But, when you have your air conditioner cleaned regularly, and make sure the filter is changed whenever it is dirty, you can count on better indoor air quality for you and your family.
Warranty Maintained: Many homeowners don't check the fine print on their equipment warranties. If they did, they would know that many manufacturers require regular maintenance in order to keep the warranty intact. Maintaining your warranty is important because it can help you save significantly if your system needs repair or untimely replacement.
Can BC Express help me get the air conditioning maintenance I need?
We sure can! As a full-service HVAC contractor, you can count on us to help with any and all of your cooling needs – from annual maintenance to AC repair and replacement. So don't hesitate – give us a call today at 732-240-2828 and get your preventive air conditioning maintenance appointment scheduled today.