BC Express review scores as of 8/22/22
Late Summer Allergies? BC Express Can Help.
BC Express review scores as of 10/20/23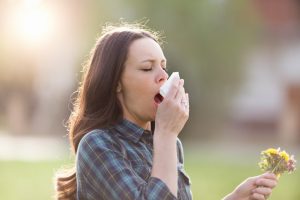 As summer starts its annual transition into the fall months, many people find their allergies beginning to tick up. While pollen from summer flowers might be on the decline, there are weeds and grasses, such as goldenrod and ragweed, that start to bloom during the late summer months. And, for many allergy sufferers, the pollen from these types of plants can be a significant irritant.
If you or a family member has to deal with seasonal allergies, you know it can be a very unpleasant experience. Unfortunately, many allergy symptoms, such as coughing, sore throat, and a runny nose can be scary and concerning right now. Fortunately, there are ways you can mitigate pollen in your home environment – which can help you and your family breathe easier.
Learn how you can eliminate pollen, dust, and other contaminants in your indoor air.
Right now, people are spending more time indoors than ever before. And, that means your indoor air needs to be as clean and fresh as possible, especially if you're an allergy sufferer. When you call in the professionals at BC Express, we'll talk to you about your indoor air quality, and explain to you all the ways we can help. Our solutions include:
Air Scrubbers: Our air scrubbing systems help reduce contaminants like air pollutants, chemical odors, cigarette smoke, dust, pollen, mold, bacteria, and odors caused by pets and cooking.
Air Cleaners: Our advanced whole-house air cleaners can capture microscopic particles, including allergens, VOCs, bacteria, and more. Additionally, our system does not harm the ozone layer, unlike other leading brands.
UV Lamps: Ultraviolet, or UV, air purifiers are beneficial for those who suffer from mold allergies in particular. That's because they kill airborne and surface mold, as well as bacteria. UV lamps are installed in your duct system and therefore kill off harmful mold and bacteria before they enter your home's air.
When you're ready to reduce seasonal allergens in your home, call BC Express.
BC Express is a highly experienced home comfort contractor, and we take pride in providing our customers with the best indoor air quality solutions for their specific needs. Quality HVAC equipment is the foundation of our business. Let us help you get the home ventilator system, as well as the installation, maintenance, and repair service you need for your home. Give us a call at 732-240-2828, and we will be happy to assist you.