BC Express review scores as of 8/22/22
Keeping Seasonal Allergies at Bay with Indoor Air Quality Products
BC Express review scores as of 10/20/23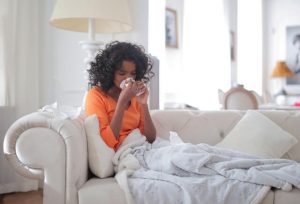 Ask anyone who suffers from seasonal allergies, and they will likely tell you that once late summer rolls around, so does sniffles, sneezes, and watery eyes. While most people are familiar with springtime allergies that occur because of budding trees and blossoming flowers, two of the worst allergy culprits – ragweed and mold – begin their allergy-inducing reign in August. And unfortunately, it can last through September and into October.
The good news is, there are ways you can improve your home's indoor air quality (or IAQ). By making sure those nasty allergens don't enter the air you breathe in your home, it can help you enjoy a welcome reprieve from the symptoms they often cause. Let's take a look at the two late-summer allergens we mentioned above, and how you can mitigate their presence in your home.
Late summer allergies are often triggered by ragweed and mold.
When people suffer from late-summer/early-fall allergies, they have symptoms similar to spring allergies, according to the Allergy and Asthma Foundation of America. They indicate that ragweed is, indeed, the most common weed allergy, with symptoms that include:
Runny nose
Sneezing
Itchy nose, mouth, ears, and eyes
Nasal congestion
Red, watery, swollen eyes
Mold allergies can produce the same symptoms, but can also get into the lungs and trigger asthma or other respiratory concerns.
Learn more about these allergens below:
Ragweed
Ever heard someone say they're suffering from hay fever? Well, hay fever is a bit of a misnomer, as most people are referring to ragweed allergies in this case. Ragweed is a flowering plant that can pretty much grow everywhere, from open fields in the country to sidewalk cracks in the city. Because it is so invasive, and because it produces massive amounts of pollen (about one billion grains per plant per season), it can cause people with allergies to suffer tremendously during its late-summer pollination period. In fact, it's estimated that it causes nearly one-half of all cases of pollen-related allergic rhinitis in North America.
Mold
Late summer months tend to be rainier and more humid, with some pretty hot temperatures mixed in for good measure. However, in many parts of the country, late summer and early fall also mark the time when leaves start to fall and vegetation begins to die down. Falling leaves, dying vegetation, dampness, and heat are all additives for a perfect storm – mold growth. Activities like outdoor sports, gardening, raking, and mowing can all stir mold into the air. If you suffer from mold allergies, you may want to take precautions while doing any of these activities, such as wearing a mask.
How can BC Express help me mitigate ragweed pollen and mold in my home?
At BC Express, we want you to be as comfortable as possible in your home, and that goes beyond your heating and cooling. We also offer you the products you need to help keep allergens like ragweed pollen and mold at bay, so you and your family can breathe fresher, cleaner air. We're pleased to offer the following products that can help with your indoor air quality needs:
Air Scrubber Plus: This revolutionary air cleaning system is designed to help eliminate indoor air quality risks by reducing air pollutants, VOCs (chemical odors), fumes from tobacco products, dust, pollen, mold, odor-causing bacteria, and pet and cooking odors. The Air Scrubber Plus cleans, freshens, and purifies the air using specialized germicidal UV light waves along with a proprietary catalytic process that creates enviro-scrubbing molecules of oxygen and hydrogen, just like nature's outdoor scrubbers.
Whole-House Air Cleaners from Carrier®: Whole house air cleaners replace the thin filters that come with a furnace or air handler. These advanced air cleaners can capture microscopic particles including allergens like mold and pollen, VOCs, bacteria, and more. Additionally, our Carrier air cleaner doesn't create ozone like other leading brands.
I'm ready for better indoor air quality. How do I get started?
That's easy – just give BC Express a call! We take pride in providing our customers with the best indoor air quality solutions for their specific needs. Quality HVAC equipment is the foundation of our business. Let us help you get the whole house air cleaner, as well as the installation, maintenance, and repair services, you need for your home. Simply give us a call at 732-240-2828, and we will be happy to assist you.