BC Express review scores as of 8/22/22
Enjoy the Space You're in This Winter with Ductless Heating
BC Express review scores as of 10/20/23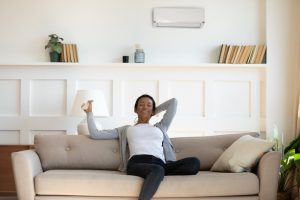 If you're like many of us, these days you're spending more time in your home than ever before. A lot of people are working from home, going to school from home, or both, so it's important that you can make the best use of every square inch of your home. If you have an area in your house that isn't connected to the main duct system, such as a converted area, seasonal room, or addition, you might want to make the best use of that area year-round. One way you can do that is by having a ductless heating and cooling system installed.
Ductless systems are the perfect solution to those areas in your home that you'd like to use more but aren't necessarily as comfortable as you'd like. They can make a seasonal room a year-round space that you and your family can enjoy, no matter how hot or cold it gets outside! And, because these systems operate independently of your home's ductwork, you won't have to worry about the muss and fuss of adding additional ductwork to your home.
How does ductless heating and cooling work?
As we mentioned above, ductless heating and cooling is just like the name implies – HVAC that does not rely on ductwork to heat and cool your home. This is especially advantageous for spaces in your home where adding ductwork is either impossible or impractical, and it helps you make use of all areas of your home year-round. Ductless heating and cooling can help you enjoy these spaces easily:
Converted attics
Converted garages
Finished basements
Seasonal rooms
Additions
Outbuildings (garages, she-sheds
While it's possible to heat and cool these areas with equipment like space heaters and window air conditioners, many homeowners find that it's not necessarily energy-efficient or as effective as they'd like to use these devices. With ductless, you'll find an effective, efficient solution that will last for years and will require minimal annual maintenance.
What are some other benefits of ductless heating and cooling?
As we've said, ductless heating and cooling is an effective, efficient way to provide climate control to rooms lacking ductwork. A few other benefits include:
Quiet Operation: Ductless systems are whisper-quiet, so you won't have to talk above them like you might a window air conditioning unit. You'll be able to focus on your comfort and not on the noise!
Minimal Construction: Ductless systems work by connecting the indoor and outdoor unit via a very small-diameter tube. You won't have to suffer through a lengthy, messy installation.
Ease of Use: Most ductless systems are operated via remote, so you'll have complete control over your system. You'll be able to easily adjust the heating and cooling to your unique needs.
Better All-Around Efficiency: Because a ductless system can help balance out cold and hot spots in your home, your main HVAC system will be able to operate more effectively and efficiently.
Ductless sounds great! How can I get it for my home?
That's the easy part – all you need to do is give BC Express a call! We are experts in ductless system installation, repair, and maintenance. We want to help you and your family enjoy your whole home, no matter what the weather outside is like. Simply give us a call at 732.240.2828. We'll be happy to schedule an appointment with you to discuss your ductless system needs.