BC Express review scores as of 8/22/22
Enjoy Cool Comfort & Fresher Air with Ductless AC
BC Express review scores as of 10/20/23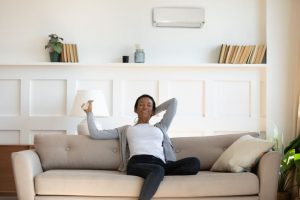 If you live in an older home that relies on radiant heat, then the chances are your home does not have a ductwork system. And, it's also quite possible that the way your home was built doesn't allow for ductwork installation. So, what can you do if you want air conditioning, but adding ductwork is either impossible or impractical? Fortunately, ductless air conditioning may just be the perfect option for you.
With a ductless air conditioning system, gone are the days of noisy, inefficient window AC units. In most homes, ductless systems are simple to install. They do not require the addition of ductwork, and usually are up and running quickly with little construction mess as they require only a small hole to connect the tubing for the indoor and outdoor system components. And, ductless air conditioning can be used in just one singular space, like an addition or converted area, or it can be installed throughout the entire house, providing whole-home comfort.
Ductless systems offer improved air quality as well.
Ductless systems offer a number of benefits that go beyond home comfort. Ductless air conditioning systems are, as a rule, highly efficient, helping you save on utility bills. This is because ductless systems provide targeted comfort that is easily controlled, either room by room or by zones throughout the home. Many ductless systems also utilize heat pump technology, which is one of the most efficient methods of providing home comfort.
An equally important factor is the advanced filtration ductless systems provide – which is especially a consideration given today's world. Many homeowners are looking for ways to keep their home's indoor air as healthy and clean as possible, and ductless systems can help. Many offer multi-stage filtration that decreases particles and contaminants in the air – some of which include dust, allergens, pollen, bacteria and some viruses. That makes ductless air conditioning beneficial for those who suffer from allergies or respiratory concerns, or simply want cleaner indoor air.
Not to mention, there are many more benefits that may surprise you.
Of course, improved home comfort, energy efficiency and indoor air quality are all paramount when it comes to choosing a ductless system. But, there are several additional benefits that make it an even more attractive solution for your cooling needs, including:
Certain models of ductless systems can provide both heating and cooling, providing you with an efficient, year-round home comfort system.
Ductless systems are generally whisper-quiet, so you won't have to deal with noise like you would from a window AC unit.
Ductless systems are made to mount high on the wall, on the ceiling or recessed into the ceiling, so they're unobtrusive and blend seamlessly.
Your ductless unit can be easily operated via remote. That gives you more control over your home comfort and offers precision cooling.
Many utility companies offer rebates and incentives for high-efficient ductless system installation, helping you save money.
How can I get ductless installed in my home?
Getting the ductless air conditioning you need in your home is as easy as contacting BC Express! We are always glad to help you with your home comfort needs, and rest assured that we're following all CDC guidelines for your safety at this time. Your comfort and health are always our priority. To learn more about our ductless system installation services, give us a call at 732-240-2828 and we'll be pleased to assist you.