BC Express review scores as of 8/22/22
Cold Spots? Ductless Heating Can Help!
BC Express review scores as of 10/20/23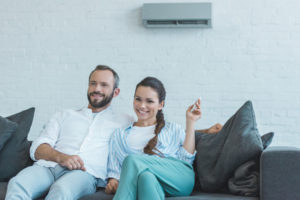 Are you feeling the chill in some areas of your home this winter? There are many different reasons why certain areas of your home may feel cooler than others. While it's tempting to turn up the heat in these instances, it may not be the most helpful solution – and could cost you much more in utility bills than you'd like.
Fortunately, one of the ways you can help balance out your home's temperature may be as easy as installing a ductless unit in that area of your home. In this article, we'll discuss some of the reasons why certain spaces in your home may be less comfortable than others and tell you how ductless can help.
When Ductless Can Help Balance Home Heating
If you're noticing cold spots in your home, and you have central heating, the first thing you'll want to do is make sure all vents are open and thermostats are in good working order. But there are certain scenarios that may mean you need to add a ductless unit to your home in order to keep the room comfortable. These situations include:
Additions
Many people get additions to their home as their family grows, but they may not include ductwork in the build. Unfortunately, this means they've added space to their home without adding access to the central heating system. Most furnaces are sized for a certain square footage in the home, so the system may be working harder than it has to in order to bring heat to that space. By adding a ductless unit, you can bring heat to that added space, and help your central heating operate more efficiently.
Converted Areas
Like additions, converted areas such as garages, basements, and attics may not have adequate ductwork. In order to enjoy the converted space no matter what the temperature is outside, a ductless heating unit may be in order. That way, you'll be able to fully enjoy your converted space all year long.
Seasonal Rooms
Sunrooms are beautiful additions to any home, but often people choose not to use them in the winter months because they don't stay warm. Why not make your seasonal room a year-round part of your home by adding ductless? You'll have a nice, relaxing space that can be enjoyed by your family, even when it's cold and snowy outside.
Not to mention…
Most ductless heating systems can also provide air conditioning in the summer, so you'll enjoy year-round comfort. And, they are highly efficient and much more effective (and safer) than space heaters or window air conditioning units. Plus, there are often rebates and incentives available on ductless systems, making them a more affordable option for your home.
Who can help me get ductless for my home?
Getting a ductless system for your home is as easy as calling BC Express. We'll help you decide if ductless is the right solution for your home comfort needs, and our NATE-certified technicians will provide you with expert installation. Ready to learn more about ductless? Just give us a call at (723)240-2828, and we'll be happy to schedule an appointment with you.