BC Express review scores as of 8/22/22
Can My Heating System Benefit from Annual Maintenance?
BC Express review scores as of 10/20/23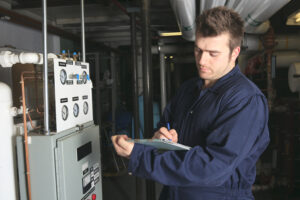 Once the fall season arrives, people start to think about the cooler weather ahead. They might make sure their doors and windows are free of drafts, change out lighter summer curtains with heavier draperies, change their smoke alarm batteries, and check insulation levels in attics and crawl spaces. And, they might start to think about their home heating system – is it ready for chillier temperatures?
Of course, one of the best ways to ensure that your home's heating system will be ready to keep you and your family warm is by making sure it gets the annual maintenance it needs. Regular maintenance is extremely beneficial for your HVAC equipment. In this article, we'll talk about some of the benefits of maintenance, and let you know how BC Express can help. Keep reading to learn more!
5 Benefits of Annual Heating Maintenance
If you haven't called to schedule your heating maintenance yet, there's no better time than the present. Here are a few reasons why:
Your heating equipment will operate more efficiently. Heating systems can gather dust and dirt, and that can make it difficult for the components to move freely. And, system filters can become clogged with particulates, too. This can make your system work harder – and use much more energy – than it needs to. Regular maintenance ensures that your system is clean and gunk-free, and your filter has been cleaned or replaced.
You'll enjoy better home comfort. A clean, well-maintained heating system works better at heating your whole house. Not only will it use less energy as we mentioned above, but it will also operate more effectively, keeping you warmer without the need to continually crank up the thermostat.
Your indoor air quality will be better. When your heating system is dirty, the particles in the system will circulate time and time again throughout the air in your home. The dust, dirt, dander, and other particles will cause the air quality in your home to decrease – which will especially cause discomfort for allergy sufferers in your household. Maintenance helps ensure that your system is clean.
You'll feel safer. Regular maintenance means that your system will be inspected and tuned up each year before the heating season begins. Your technician will ensure that system components and electrical connections are all in proper working order, helping your system perform safely. And, any small problems can be taken care of before they become larger, more expensive, and potentially hazardous issues.
Your warranty will remain intact. Many equipment manufacturers warn that maintenance must be completed by a licensed professional to keep the warranty intact. If the homeowner fails to get the proper maintenance, they may void their equipment warranty – and that can mean expensive out-of-pocket costs should the equipment need repairs or replacement.
Count on BC Express for your fall maintenance needs.
When you call BC Express for heating maintenance, our NATE-certified professionals will inspect and clean your system thoroughly. You can expect us to perform the following:
Check the unit for gas leaks or carbon monoxide.
Replace the filters or clean washable lifetime filters.
Inspect the gas valve safety seal and adjust the flame.
Measure the amp draws and voltage compared to manufacturer safety specifications.
Inspect the flue piping for restrictions and air leaks.
Check the safety switches and fan controls.
Clean the system and/or air handler to remove flammable particles.
To learn more about our professional heating preventive maintenance services, simply give us a call at 732-240-2828. We'll be more than happy to schedule an appointment with you!