BC Express review scores as of 8/22/22
Air Conditioning Woes? BC Express Can Help.
BC Express review scores as of 10/20/23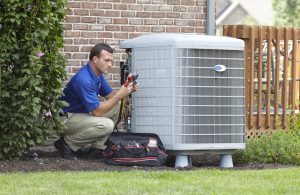 When you're dealing with the summer heat, nothing feels better than relaxing in a cool, air-conditioned home. We rely on our cooling systems to keep us comfortable when the temperatures outdoors soar. Unfortunately, when your home's AC system isn't working properly, that means you and your family aren't as comfortable as you'd like to be.
Luckily, there are signs that can indicate your air conditioning system may need repairs – signs that go beyond your system simply not turning on. Of course, if that's the case you should give BC Express a call so we can get in and check out your system as soon as possible. But if you're not entirely sure if your system is working properly, there are a few things to look out for.
5 Indicators That Could Signal AC Repair Needs
If you're worried about your AC system's performance, there are some telltale signs that could point to a potential problem. These include:
Noisy Operation: Most air conditioners make some noise when they operate, and that's normal. But if you're hearing pinging, squealing or grinding sounds when your system runs, there is likely an issue that needs a technician's attention.
Dust Bunnies: If there is an excess of dust in your home when your system runs, there is good and bad news… the good news is, it's probably a very simple fix. The bad news is, you'll likely have to replace your system's filter. This is something you can do yourself, or we can help with.
Still Sticky: If your home is still warm and humid, even with the air conditioning running, there is likely a concern that needs to be addressed. Air conditioning systems remove humidity from the air as well as cool it, so if you're feeling sticky, you probably need to have your system checked out.
Cold & Hot Spots: With central air conditioning, your home should be at a relatively consistent temperature throughout. But if you're noticing some areas are a bit too chilly, and/or other areas are too warm, there could be a ductwork issue or your AC unit could be the wrong size.
Soaring Energy Bills: Of course, your energy bills will rise when you're operating your AC system. But if they're unusually high, or you've noticed an unexplained spike in your utility bills, it could mean your system is working harder than it needs to. And, that indicates there could be a problem that needs a repair.
If you have any of these concerns, give BC Express a call.
Getting the air conditioning repair services you need in your home is as easy as contacting BC Express! We are always glad to help you with your home comfort needs, and rest assured that we're following all CDC guidelines for your safety at this time. Your comfort and health are always our priority.
To learn more about our AC repair services, give us a call at 732-240-2828 and we'll be pleased to assist you.