BC Express review scores as of 8/22/22
5 Reasons to Schedule Your Fall Maintenance Today
BC Express review scores as of 10/20/23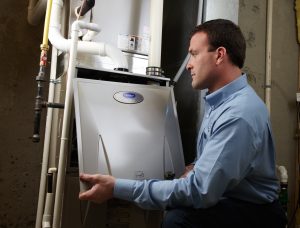 Even though we're still enjoying milder weather, the chill will be upon us sooner than later. And that means your heating system will be back to work, keeping you and your family warm and comfortable. Just like getting your annual checkup to make sure you're healthy, it's a good idea to get your heating system checked, too. At BC Express, our HVAC professionals can provide you with the annual maintenance your system needs to run smoothly all winter long.
Our technicians are experts in the field of heating services. They're highly trained and NATE-certified, so they're able to help you with your heating maintenance needs, effectively and efficiently. While that sounds great, you might be wondering why you even need to think about heating maintenance in the first place. Believe it or not, there are many important reasons why you should get your heating system the annual maintenance it needs – from lower energy bills to saving on potential costly repairs.
Top 5 Reasons to Get Heating Maintenance
Better Energy Efficiency. Because a part of annual heating maintenance includes cleaning your system, replacing a dirty filter, and proper lubrication of mechanical parts, this means your system will work much more effortlessly. And that helps improve energy efficiency – which can help you save on heating bills!
Cleaner Indoor Air. Heating systems, especially forced-air systems like furnaces, can kick up dust and other particulates throughout your home. Often, a dirty filter is the cause of this. By getting annual maintenance, your dirty filter will be replaced, helping to improve the air quality in your home.
Longer Equipment Life. Think about it this way – would you expect your vehicle to last long if you never changed the oil or got new tires? Probably not. The same goes for your heating system. Neglecting annual cleaning and checkups can lead to system failure down the road – and possibly premature replacement.
Fewer Costly Repairs. Part of your annual maintenance includes a full system check-up. This can help find small, easily-remedied problems before they become larger ones. Taking care of issues early can keep them from causing system failure – and a much more expensive repair or even replacement – down the road.
Warranty Maintenance. This one often surprises people, because they may not realize that many manufacturers require annual maintenance to keep the warranty intact. Failure to get maintenance as prescribed can void your warranty – and that can mean you have to pay out-of-pocket expenses that would otherwise be covered.
Okay, it sounds like heating maintenance is important. How do I get it?
That's easy! Just give BC Express a call at 732-240-2828. Our expert technicians are ready to help you get the heating maintenance you need, as well as installation and repair services for your heating system. Call today to schedule an appointment or contact us online.