BC Express review scores as of 8/22/22
5 Benefits of Annual HVAC Maintenance
BC Express review scores as of 10/20/23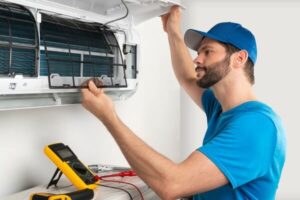 Your home's heating and cooling system is an important investment. An HVAC system is not a luxury, but a necessary expense. Chances are, your home comfort system was costly – after all, a lot goes into manufacturing equipment that's meant to keep your family both safe and comfortable. That's why it's so important to make sure it's working properly. And one of the best ways you can do that is by making sure it gets the annual maintenance it needs.
It's best to have your heating system maintained in the fall, and your cooling system in the spring. That way, you can make sure it will be at its best performance during those times of the year when you rely on it for home comfort. Aside from helping to protect your investment, there are very real reasons why getting your heating system and air conditioning maintained is a good idea. In this article, we'll talk about the five main benefits of choosing annual maintenance.
Learn more about five ways HVAC maintenance can help your equipment.
Increased Efficiency: HVAC systems are meant to not only heat or cool the air but to circulate it around your home. In the course of operation, your system can get dirt and buildup inside of it that can make it have to work harder to do the job of keeping your home comfortable. Your annual maintenance includes cleaning your system, lubricating any moving parts, and changing out dirty filters. These measures all help your system perform more effectively and efficiently.
Cleaner Indoor Air: As we mentioned above, the air that moves through your HVAC system often contains particles that can diminish the quality of your indoor air. Particles like dirt, dust, pollen, dander, and mold move through your system and can collect inside of it. If you don't get your system the maintenance it needs, including changing your air filter, you're allowing the dirty air to keep moving through your system – and through your home.
Warranty Maintenance: Most HVAC systems offer customers a warranty, but read the fine print – often, they also require regular maintenance in order to keep the warranty intact. If you haven't received annual maintenance on your system and a problem occurs, you may be looking at a voided warranty – and you'll have to pay for repairs out of pocket.
Fewer, Less Expensive Repairs: When you get annual maintenance on your heating and cooling system, your technician will perform a checkup to make sure everything is in good working order. If there are any small problems, your tech will discuss them with you and make any needed repairs. And, they'll keep a record of the repairs they've performed, in case of any problems down the road. However, if your system is left unchecked, those small problems can turn into major – and costly – issues.
System Longevity: Of course, when you add up all the benefits we've already discussed, it stands to reason that getting annual maintenance helps your system last longer. Your system will be cleaned and tuned up regularly, any small repairs will be made in a timely manner, and your technician will have a running record of your system's health and performance, making it much easier for them to troubleshoot and repair your system should any problems spring up down the road. And, you'll be able to rest assured that repairs will be affordable because you've made sure your warranty is intact!
How can BC Express help me get the maintenance I need for my home's cooling and heating system?
At BC Express, we take great pride in offering our customers the best and most efficient heating and cooling systems on the market today. But that's just the tip of the iceberg! We also can provide you with maintenance plans that help keep your system running smoothly, and expert repairs should you need them down the road. And, even if you didn't purchase your heat pump, furnace, or air conditioning system from us, our skilled technicians are able to maintain virtually any make or model of heating and AC system.
As a full-service HVAC contractor, you can count on us to help with any and all of your heating and cooling needs – from annual maintenance to repair and replacement. So, don't hesitate – give us a call today at 732-240-2828 and get your preventive maintenance appointment scheduled today.